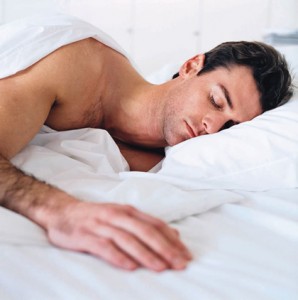 Any personal trainer will tell you that good sleeping habits help support a healthy lifestyle. Getting adequate sleep helps us feel rested and energized. The downtime also gives our bodies a chance to recover from exercise and repair our muscles. But it's also believed that there's a link between adequate sleep and bodyweight - specifically, that deceasing one's sleep increases the risk of weight gain and diabetes.
In a new study, researchers from the German Universities Tubingen and Lubeck and Uppsala University in Sweden examined the effects of short-term sleep deprivation on hunger, physical activity and the body's energy expenditure.
According to the findings, sleep deprivation increased both self-reported hunger and levels of ghrelin (known as "the hunger" hormone) for participants. The less sleep that participants received, the greater their hunger. Because sleep-deprived individuals are hungrier, it's very likely that they consume more food and a greater number of calories than their well-rested and less hungry counterparts.
Not surprisingly, physical activity also diminished with less sleep. When we're tired and fatigued, we tend to move around a lot less - and thus, burn fewer calories. Researchers also found that staying awake all night also resulted in fewer calories burned while the body is resting.
All in all, the research suggests that when we're deprived of sleep, we may consume more calories through the food we eat and burn less calories through out the day. More calories in and less calories out is a recipe for weight gain, an increased risk of obesity and even diabetes.
Of course, more research is still needed. And it's still a bit premature to conclude that increasing sleep time may assist in weight loss or that sleep can be used as a treatment for obesity. But sleep certainly does seem to play an important factor.