Dear Davey,

My entire life, I was always very lean. Until I met my boyfriend. In just 2 years, I've gained more than 30 pounds with no end in sight. I'm officially overweight. What do I do?

From,
Keith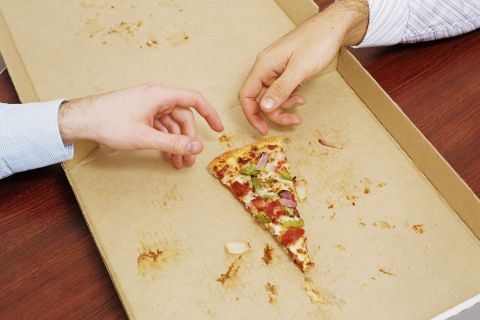 Hey Keith,
While we might joke that relationships make us "fat and happy," there may be some truth to the age-old adage. According to one poll, 62% of respondents report gaining 14 pounds or more after starting a relationship. And a frequently referenced study from the New England Journal of Medicine found that having an obese spouse makes you 37% more likely to become obese yourself.
And it makes sense. When we're in a relationship and off the market, we might become less concerned with our appearance. For some people, this might be an excuse to slack off on exercise or indulge in unhealthy foods. Maybe we make more time for our partner, and less time for ourselves. Or maybe our partner is an enabler, and we adopt his or her unhealthy eating habits. Instead of the usual salad, we opt for the pizza.
But let's be clear: Unless there's a feeding tube down your throat or you're being held prisoner, no one can make you fat without your permission. All of us, regardless of relationship status, must take responsibility for what goes into our mouths and the exercise we get. We must take responsibility for our health.
The reality is, being off the market isn't an excuse to skip exercise. Beyond looking a certain way, exercise is a necessary component to a healthy and productive life. And while it's great to make time for the people we love, we have more to give others when we prioritize ourselves. If your partner orders a pizza, you can still choose something healthier. It's not an excuse.
As a human being with free will, don't use your partner as an excuse; take responsibility for your choices and subsequent weight gain. Understand that through smarter food choices and through increased movement, you can reverse the trend - and perhaps even inspire change in your partner's lifestyle.
Your boyfriend didn't make you fat. You made yourself overweight. But by utilizing that same power of choice, you can also make yourself healthier and fit.
Love,
Davey
P.S. If you need help getting started, I'd recommend downloading Davey Wavey's Bootcamp Workout. With a series of at-home workout programs, you can lose weight and build muscle.