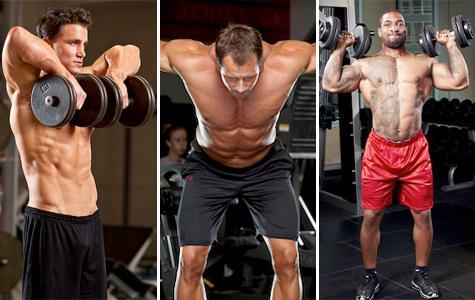 Having strong, bulging shoulders isn't just sexy; it's functional. With shoulder injuries impacting up to 69 percent of the population, taking advantage of a balanced and well-rounded shoulder workout can help reduce the risk of injury.
So which shoulder exercises are the best? The American Council on Exercise teamed up with researchers from the University of Wisconsin, LaCrosse to find out. The findings were published in a recent study.
For the study, researchers compiled a list of ten common shoulder exercises. Next, a set of healthy, male volunteers were recruited. Each volunteer participated in one practice workout and then two test workouts. To determine muscle activation, special electrodes were placed on the three different muscle heads of the shoulder (front, middle and back).
After crunching the data, researchers found that different exercises were best for each of the different muscle heads.
To work your anterior deltoids (the front shoulder muscle that you see in the mirror), the dumbbell shoulder press is the absolute best. No other exercise came close. A distant second was the dumbbell front raise followed by battling ropes (which you commonly see in crossfit classes).
When it comes to the medial deltoids (the middle shoulder muscle), the 45-degree incline row and bent-arm lateral raise were the best performing exercises.
Last but not least, the seated rear lateral raise and the 45-degree incline row were best for the posterior deltoids (back shoulder muscles).
Keep in mind, while most people focus on the anterior deltoids (because those are most visible when they look in the mirror), it's important to have equally balanced shoulder muscles for proper function, to minimize imbalances and to reduce the risk of injury.
If you're unfamiliar with any of the above exercises, scroll down below for some demonstrations!
Incorporate these exercises into your shoulder workout for optimal results.
Dumbbell Shoulder Press (Best for front shoulders)
45-Degree Incline Row (Best for middle shoulders/back shoulders)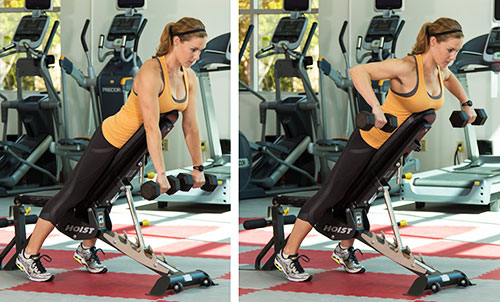 Seated Rear Lateral Raise (Best for back shoulders)