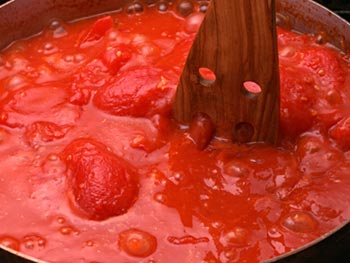 Carbohydrates are your body's primary source of energy, but not all carbs are created equal. For a lot of people looking to release some extra weight or increase definition, reducing the intake of simple carbohydrates - like table sugar - is common practice.
Food products like candy, chocolate bars and soda are obviously loaded with sugar. But there are a number of unlikely foods that are shockingly high in sugar. Here are my top 6:
Some dried fruit. Dried fruit sounds like a healthy and nutritious snack, right? It can be. Except that many dried fruits are loaded with added sugar to enhance the sweetness. It's totally unnecessary. When buying dried fruits, read the ingredients carefully. If you see any other ingredients beyond the fruit (like corn syrup, etc.), then put it back!
Fruity drinks. A Pina Colada, for example, has more calories than a Big Mac and as much as 60 grams of sugar. That's a shockingly high number - and the equivalent of more than 70 Skittles!
Barbeque sauce. It might be lip smacking delicious, but barbeque sauce is packed with sugar. Two tablespoons of BBQ sauce has 12 - 15 grams of sugar. And let's be real, who uses just two tablespoons? And BBQ sauce isn't alone - many sauces and glazes are secretly high in sugar, so pay extra attention to both the nutrition information and the listed serving size.
Chocolate milk. Milk, which contains lactose, already has its fair share of sugar. But add in some chocolate syrup, and a sugar buzz is almost unavoidable. A single 16 ounce container of Nesquick Fat Free Milk has a mind-numbing 54 grams of sugar.
Tomato Sauce. Believe it or not, one cup of tomato sauce has as much as SIX teaspoons of sugar! Pasta is high in carbs to begin with, but tomato sauce can be a real diet killer. 100 of the sauce's calories come from pure sugar.
Vitamin Water. Last but not least, most people think of Vitamin Water as a healthy alternative to soda. Not so fast. A single bottle (they claim a bottle is 2.5 servings) contains 32 grams of sugar. And really, not that many vitamins.
Not on the list but runners up: fruity yogurt, smoothies (many have added sugar and/or honey), granola bars, cereal and ketchup (yes, seriously).
The bottom line is that if sugars - or carbs in general - are of concern to you, it's important to read the nutrition information carefully… even for those foods that are unlikely suspects.