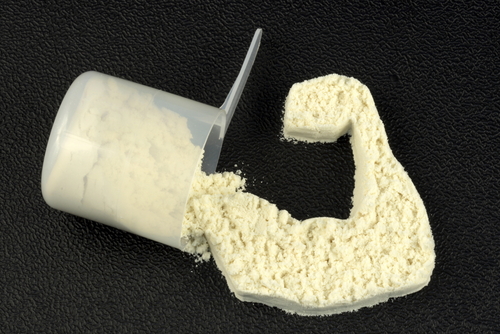 If you ask ten people about protein powder, you'll probably get ten different answers. Indeed, there are many misconceptions about protein powder - so let's separate fact from fiction:
Protein powder makes you fat: False. Well, it's false but with a caveat. Eating too much of anything can make you fat - even lettuce. Your body adds fat when you're consuming more calories than your body needs. Protein powder contributes to your daily caloric intake just like any other food; there's nothing special about it. However, it is true that many pre-mixed protein shakes and smoothies are very high in calories. Just be mindful of your calorie balance.
Protein powder will give you muscles even if you don't work out: False. When it comes to adding muscle mass, there's no quick fix. Simply ingesting additional protein isn't going to help. In fact, most Americans already get more than enough protein through their diet. Unless you're excising, there's probably no need for protein supplementation. Save your calories for foods that taste better. 😛
Protein powder gives you gas: True. Some people experience gas and bloating as a result of protein supplementation. If you're experiencing excessive gas, try switching brands. Depending on the quality of the protein and the presence of various fillers, you may find some brands easier to digest than others. It takes a little trial and error.
Your body can only absorb 30 grams of protein at once: False. Research has debunked the 30 gram protein myth. In reality, your body can absorb much more than 30 grams of protein in a single meal.
Too much protein can be dangerous: True. Too much of anything isn't good - and protein is no exception. Excessive protein consumption has been linked with a number of side effects - including dehydration and seizures.
All protein is the same: False. Actually, this one is extremely false. The various protein types vary quite dramatically. Whey protein, for example, is absorbed very quickly by the body and is great to consume post-workout. Casein protein, on the other hand, is absorbed slowly. As such, it's a good choice to consume before bed. You can also compare different types of protein on their biological value, which determines how much of the protein your body is able to use.
Protein tastes awful: True. There's no sugar-coating it. Protein powder doesn't taste great. But you're not eating it for the flavor; you're eating it for fuel. Having said that, you can try disguising the protein powder in smoothies with fruits, vegetables and almond milk. Or you can try mixing it into other foods, like Greek yogurt or even healthy muffins.
Do you have any questions about protein powder? Let me know in the comments below!
Just launched: Check out Davey Wavey's brand new fitness program, Davey Wavey's Bootcamp Workout. Through three, 15-minute workouts, an e-book and bonuses, you'll get the workout of your life. Use discount code "blog" to save 25% during checkout.