We all know that proteins are the building blocks for muscles. And that we all need protein - in varying amounts - to live a healthy life and achieve our fitness goals.
For a lot of folks that live active lifestyles, protein supplements are often required to repair muscle and improve recovery time. There are as many supplements as stars in the sky, and the types of protein that these supplements contain vary from product to product. Think all proteins all basically the same? Think again.
These supplements generally contain protein sourced from milk, eggs or soy. These proteins are absorbed differently by the body; the better the absorption, the the higher the Biological Value (BV).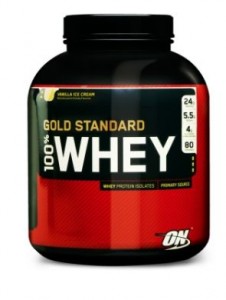 Here's the BV of some common food items:
Whey isolate: 110-159
Whey concentrate: 104
Whole egg: 100
Cow's milk: 91
Egg white: 88
Fish: 83
Beef: 80
Chicken: 79
Casein: 77
Soy: 74
Rice: 59
Wheat: 54
Beans: 49
Whey protein is the clear winner. Whey protein is very pure - though it's derived from milk protein, it doesn't contain the sugar that is otherwise found in milk protein - and it's been proven to help boost the immune system. Unfortunately, it's often the most expensive. And vegans won't be able to consume it. Nonetheless, it's the best stuff available.
The bottom line: When shopping for supplements or when adding protein to a smoothie, opt for whey protein (either concentrate, or isolate - if it's available).