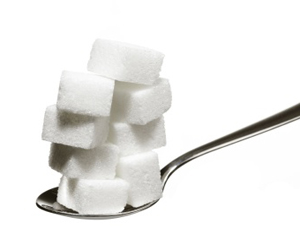 If you look at the nutrition information for a banana and a serving of Starburst candies, you might be surprised to notice a few similarities - including the amount of sugar. Both foods have about 28 grams of sugar.
Of course, there's a difference: A banana has naturally occurring sugar while the candies have added sugar. What's the difference? And is one for of sugar healthier than the other?
All sugars are a form of carbohydrate. According to Calorie Count:
Naturally occurring sugars include lactose in milk, fructose in fruit, honey and vegetables and maltose in beer. Added sugars originate from corn, beets, grapes, and sugar cane, which are processed before being added to foods. The body cannot tell the difference between naturally occurring and added sugars because they are identical chemically.
Sugar is sugar, and we know that all of us get way too much of it. In fact, the average American eats 130 pounds of sugar per year. But the story doesn't end there.
In our above example of a banana versus Starburst candies, no one would argue that the candy is a healthier choice. That's because the banana comes loaded with essential nutrients that our bodies need. The candies, on the other hand, don't.
Here's the deal: Many foods that contain naturally occurring sugar also contain some really great stuff - so you need to pay attention to other things like vitamins, minerals and fiber to get a more complete picture. Foods with added sugar are often nutritionally devoid. Think donuts, cake and soda.
And it's worth noting that a nutrition label doesn't distinguish between naturally occurring sugar and added sugar. You'll have to read the ingredients carefully to see if sugar is added. If ingredients like barley malt, high fructose corn syrup, brown sugar, maltose, molasses, etc., are listed, then you'll know there is added sugar in the food product.
Having said that, it's still wise to minimize all forms of sugar. Naturally occurring sugar is still sugar, and there are plenty of ways to get nutrients without the sweet stuff - added or otherwise.