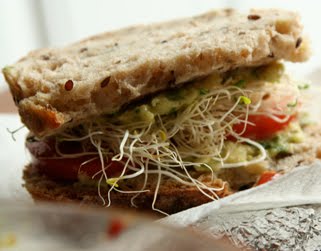 Yes, sandwiches are fast, easy and convenient - but they can also be secret calorie bombs. Today, I'm going to help you build a better lunch with my healthy sandwich guide.
Before we get started, it's worth noting that healthy sandwiches start at home. By preparing your sandwich at home, you'll know exactly what goes into it (and, equally important, what's not going into it). And, it will save you money!
BREAD
Building a healthy sandwich starts with a proper foundation. While white bread or baguettes can be tempting, the later could add as many as 500 calories to your lunch. White bread will also spike your blood sugar and wreck havoc on your energy levels.
Here are my recommendations:
Whole wheat bread. Be careful to read the label and look for the word "whole" before wheat. If it doesn't have it, it's really just white bread in disguise. For example, I was surprised to learn that Subway's wheat bread actually contains no whole grains. It's not a smart choice for a health-conscious individual like you.
Whole grains. There are plenty of other whole grain options beyond wheat. Spelt is another great choice.
Whole wheat pita. Cut open a whole wheat pita and fill it with your favorite toppings.
PROTEIN
Our bodies use proteins for many important functions, including to repair and rebuild our muscles - which is especially important for active or gym-going individuals. But protein also helps us feel full longer. As such, protein consumption is also important for people looking to lose weight.
Smart protein choices:
Eggs. While high in dietary cholesterol, eggs don't spike blood cholesterol levels - and they're packed with tons of important nutrients.
Chicken or turkey.
Hummus. No meat? No problem. Beans are rich in protein. And since hummus is made from a base of chickpeas, it's a smart, high-protein option.
Fish including tuna, salmon and mackerel.
TOPPINGS
This is where it gets fun! Load your sandwich with colorful and nourishing toppings like:
Sliced red, yellow and green peppers.
Tomatoes.
Onions.
Arugula.
Micro greens - which are loaded with an average of 4x the nutrients of full-grown greens.
Spinach.
And so much more. Get creative!
FATS
Guess what? You don't need to put fats like butter or mayonnaise on a sandwich. I promise that your sandwich will still taste great! And that's especially true if you replace unhealthy fats with alternatives like mashed avocado, mustard or even just plain tomatoes. Try adding herbs and seasoning to increase flavor without the fat.
By putting these tips to use, your lunchtime meal with help support your health and fitness goals. If you have any additional tips to share, please do so in the comments below!