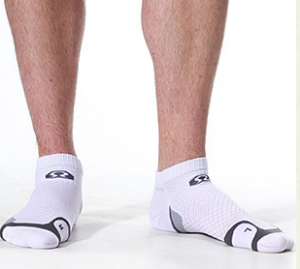 I'm not a sock person. Some people wear their socks inside, and still others even wear them to bed. Personally, I think the feeling of warm fabric around my feet and toes feels suffocating. I much prefer going au naturel.
So when someone told me that Lululemon's Ultimate Running Sock would change my life, I was skeptical. Since I get numerous emails about what I wear to the gym (and being something of a Lululemon whore), I bought a pair and decided to do a product review.
At $US 14.00 per pair, like most things at Lululemon, the socks aren't cheap. With that sort of price tag, I remember thinking that they better pleasure me sexually. Turns out, they kinda do. They're nothing short of amazing.
There isn't any one thing that's especially compelling about the sock. Instead, I think their amazingness is the result of a whole bunch of things that just come together in a way that works. Unlike normal socks, these socks are marked right and left - as the socks are anatomically constructed (what a great idea!). The fabric wisks moisture away from the foot, and provides a great amount of ventilation. They don't slip, and have extra padding where needed to prevent blisters and to provide impact cushioning.
They are life changing. And no, Lululemon isn't paying me for this review or giving me free samples (but they should!). In fact, these socks are so amazing that I may even wear them to bed.