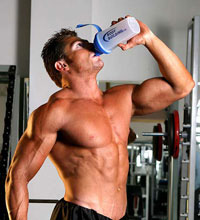 This week marks the fourth and final week of my month-long creatine experiment. Starting in early April, I started my first cycle with creatine, and alternated between 5 gram and 15 gram loads each week thereafter.
Creatine is a popular supplement that aids in muscle function. Contrary to popular belief, it's neither a steroid nor illegal in collegiate, professional or Olympic sports. Creatine simply flushes the body's muscles with water, and often results in strength and muscle mass gains.
Many claim that creatine results in a 10 pound weight gain within the first month. Though I'm sure there is a basis for this assertion, I experienced none of that; I am at the same weight today as I was on April 1. My body looks slightly different, though I'm currently leaning up for the filming of an upcoming fitness video. I don't think much of the difference can be attributed to creatine so much as my modified diet. I had some minor strength gains at the gym, though I suspect I may have experienced those gains even without the creatine.
The bottom line is that I didn't see or feel much of a transformation, even after trying some creatine tips and tricks. It doesn't discount creatine or its potential, but it does put emphasis on the reality that all of our bodies, circumstances and situations are quite different. It stresses that importance of finding out what works best for you, and recognizes that there is no one-size-fits-all approach when it comes to health, nutrition and fitness.
If you are curious to try creatine, go for it! Your results will likely differ from mine. And so long as you are between the ages of 18 - 60, looking to increase your muscle mass or improve your strength, strength training regularly and don't have kidney concerns, liver issues or diabetes, creatine may be a good fit for you.