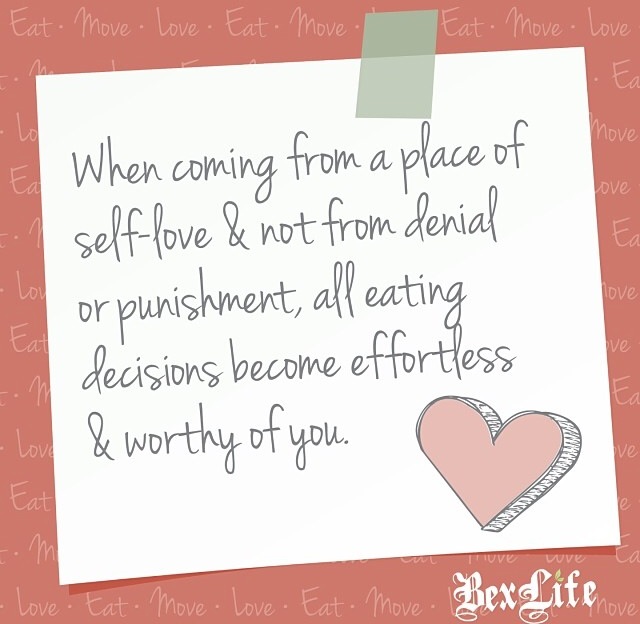 One of my favorite fitness gurus is a YouTuber/yoga instructor/mother of four kids/backyard farmer named Rebekah Borucki. She's an endless source of inspiration and her Instagram is basically the best thing since unsweetened almond milk.
The other day, Rebekah Instagrammed a quote that I want to share:
When coming from a place of self-love & not denial or punishment, all eating decisions become effortless & worthy of you.
Consider the following scenarios.
John walks by a pizza shop serving fresh slices. He's hungry - and he's tempted by the crispy pepperonis, melted cheese and oozing greasiness. He thinks to himself, "I really want to eat that pizza but I know that I shouldn't." He knows that he's trying to cut calories and the pizza won't help. Though he desperately wants to eat a slice or two, he musters up his willpower, denies himself the pizza and manages to continue on his walk.
Anna walks by the same pizza shop and sees the same slices. She is also on a weight loss journey, but is immediately reminded of the important roles that her body fulfills. While she has her ups and downs, she knows that her body is beautiful in its own right and that it is deserving of the very best. She knows that junk food is for junk bodies - and that her body is worthy of so much more. An effortless and knowing smile comes to her face, and she continues on her walk.
While neither individual ate the pizza, it's clear that Anna's experience is one that's centered around true power. Rather than wrestling with denial or deprivation, Anna's perspective comes from an abundance of self-love and worthiness. Not only does it help foster a healthier mindset, but it's a perspective that is sustainable - and one that can result in powerful life changes.
So… If a healthier lifestyle is one of your goals, with whom do you wish to identify? John? Or Anna? The choice is always yours.