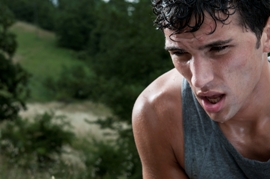 Let's talk about sweat. Steamy, hot, dripping sweat.
In fact, even as I write this blog post, I'm still sweating from my morning workout - so the topic seems more than appropriate.
Sweating is a glorious thing and it's my secret to a clear complexion. But there's a popular myth that sweating more means more calories burned. It's simply untrue.
In reality, the intensity of your workout (and not the amount you sweat) determines calories burned. Sure, you may sweat more at higher levels of intensity, but sweating is largely influenced by other factors including clothing, outside temperature, body weight, genetics, diet, medications and even hormone levels.
Simply put, sweat is really just your body's way of getting rid of heat. It isn't necessarily an indication of workout intensity and the amount of calories or fat that you're burning.
Some people exercise while wearing plastic "weight loss" suits during hot weather to increase sweat output. And while these suits do increase perspiration and thus result in immediate weight loss, it's all water weight - and not the result of fat being burned. Moreover, it's an unhealthy practice that can result in heat exhaustion.
There are few things as satisfying as a workout that leaves you dripping in sweat. But if you really want to lose weight through exercise, focus on the intensity of your workout and a calorie deficit rather than the amount of sweat that you're producing.