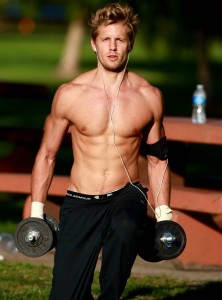 I get a lot of questions about weight loss - and more specifically, about how much weight a person can (safely) lose per week.
The general recommendation is that you can lose up to 1% of your weight per week. So, if you're 200 lbs, then that's 2 pounds the first week. Note that as you release weight, the per week amount changes. If you're down to 150 lbs, then you wouldn't want to release more than a pound and a half per week. Following this guideline, most of us wouldn't want to lose more than a few pounds per week.
The recommend amount may sound low, but remember that losing weight slowly is more sustainable. In addition, in minimizes the sometimes harmful effects of rapid weight loss like loose skin.
But remember - losing weight is one thing, and losing fat is another. Fat is just part of our body's variable weight. On top of our skeletons are layers of muscle, too. And our bodies contain a tremendous amount of water weight. Losing weight doesn't tell the whole story.
For example, a dehydrated person will weigh less than when they are hydrated. But obviously, that's not a good thing. And a person that is exercising and lifting weights may actually gain weight - though the weight gain is good, and the result of increased muscle mass. Clearly, weight is fairly limited as an indicator of body fat or as a measure of overall health.
Moving beyond the scale, I recommend using alternatives like inches lost (from the waist), inches gained (from the biceps, chest, etc.), increases in energy, health changes, body fat percentages and more.