Dear Davey,

Five weeks ago I decided I need to change my life, and I started to do cardio and strength training.

I'm working out at least 6 days a week. I'm obese but I'm making progress and can lift much more weight than before. Every day I like to challenge myself physically and I've finally made it up to 25 minutes on the elliptical. My diet is not perfect, but I've been eating a lot healthier than before I started working out. Instead of eating one big meal a day, I now eat many small meals.

Everyone I speak to says I shouldn't judge my progress by the number on the scale - however, it's very discouraging to know that I have gained 3 lbs since starting 5 weeks ago. Because I'm so overweight, the number on the scale is such a huge issue for me. It has become an obsession! I think I'm starting to see a very slight change in the way my shirts fit - but I feel like I'm only going to be convinced that my hard work is paying off by seeing the number on the scale drop.

Is it normal to gain weight when exercising and how long you think it will be before I see the number on the scale start to drop?

Thank you,
Christine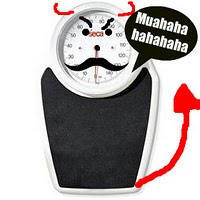 Dear Christine,
Congratulations on being so motivated to transform your body and your life! It's always an inspiration to hear stories like yours.
First of all, I'd recommend re-evaluating your gym commitment of "at least" six days a week. It's not realistic - and more importantly, not sustainable - for an exercise beginner to commit to six days at the gym. And secretly, I'm sure you understand that this is true as I can already hear the frustration in your words. It's been five weeks and you're not satisfied with the results. This is the point at which many people experience burnout and ask themselves, "Why bother?"
By simply your workout routine down to three days a week, it will be much easier to make exercise a lasting part of your lifestyle. And that's really what it's all about. Three days a week is sustainable and it will yield fantastic results, especially for a beginner in your situation. And, over time, you can gradually increase that commitment.
Now let's talk about the weight gain.
Don't panic. Gaining weight when starting to exercise is very common. The first step is to determine if you're gaining fat or muscle.
Since muscle is more dense than fat, it's possible that you're losing fat but gaining muscle. You said that you're able to lift more weight than before, and so undoubtedly you're adding muscle to your frame. To determine if your weight gain is fat or muscle, have a body fat test completed at your gym. In another 4 or 6 weeks, take another test and compare the results. If that's not an option, you can always measure different parts of your body and record it in a journal. Every few weeks, repeat this process. If you notice that you're losing inches but still gaining weight (or even staying at the same weight), you can know that your weight gain is muscle - and that you're still losing fat.
You also may be gaining weight if you're eating too many calories. I would encourage you to keep track of the calories that you consume. Use this formula to calculate your caloric requirement, and make sure that your meals are within that amount. As a person that has gone from one meal a day to several smaller meals (which is definitely smarter!), it may be that you're overestimating your servings.
Certain medications or conditions also make losing weight more difficult - so it's also worth touching base with your doctor.
And, at the end of the day, don't give the scale more power than it deserves. It's just one tool in a toolbox of many - and it's far from the best way to measure your results. Congratulations again on your commitment, and I look forward to your progress! Keep us updated!
Love,
Davey
P.S. If you have a question for Davey, ask it! And for more information about losing weight, download The Davey Wavey Weight Loss Program.