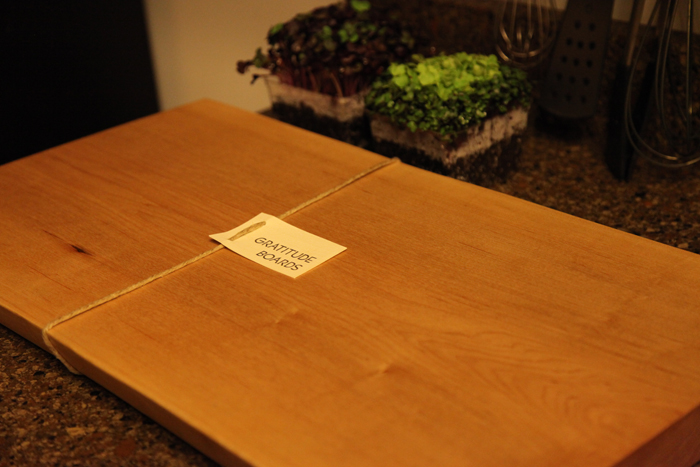 Oprah isn't the only one with her favorite things. When I find something that I love, I can't wait to share it with you - and today I'm doing just that.
The other day, I was searching a local farmer's market for some fresh microgreens when I came across a booth piled high with what looked like beautifully crafted cutting boards. But they weren't cutting boards. They were gratitude boards.
I was already sold.
The woodworker who created them suffers from a chronic illness. Without his knowledge, his friends and family set up a blog to help raise money for his treatment. Overwhelmed with gratitude and emotion, the idea for gratitude boards was born.
He writes:
The "Gratitude Board" is a new simple design, one that embodies my gratitude for all that has been given to me and my family. I make each board by hand from "drops" or scraps of wood left over from other projects. As I make them, I am grateful for the gift of beauty from the trees that provide my raw material, I am grateful for my ability to work and create and I am grateful for the use that these boards will provide to others preparing meals for their families.
The experience of gratitude isn't just good for the soul - it's good for the body. When we express gratitude for our food and make our meals that much more sacred, it's much easier to make smarter, wiser food choices. I am grateful for the fresh salad that I'll make this afternoon. Not so much for a box of Twinkies. It's a simple but transformative philosophy that helps support and promote a healthy lifestyle.
Now, each time that I use my cutting gratitude board, I'm reminded to give thanks for the food that I'm preparing, the people that it will feed and the nourishment that it will provide for my body.