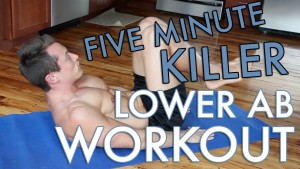 When I exercise my abs, I usually break the workouts into three different days. On one day, I do an oblique workout. On the second day, I do a more standard ab workout with crunches, etc. On the third day, I do a workout that targets my lower abs.
With just five minutes, I managed to cram a number of great lower abdominal exercise into today's YouTube video via my Davey Wavey Fitness YouTube channel. Check out the video and make sure you subscribe to my fitness channel!
To download a professionally workout program with three, 15-minute workouts, check out Davey Wavey's Get Ripped Workout. Use discount code "core" to save 20% during checkout. And for exercise mats or other equipment, check out www.fitness-mad.com.