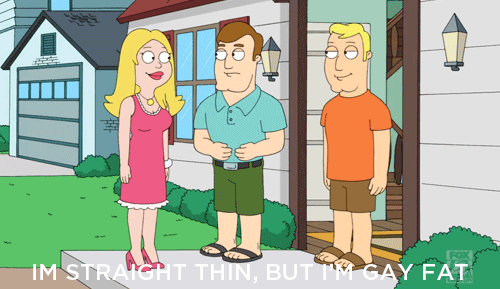 Here's something you've probably heard: Someone referred to as "straight skinny but gay fat."
This statement, of course, refers to the differing standards in appearance for straight and gay men. In other words, a few extra pounds on a straight guy isn't a big deal. But in the gay world, it's a different story altogether.
Now here's something you probably haven't heard: Among men who have eating disorders, 42% identify as gay.
When we hear the term "gay fat" in reference to the double standard in body image, the tendency is to laugh. It's often used as a punch line. But I'm not laughing. Maybe the idea of "gay fat" wouldn't bother me so much if it wasn't killing people.
Here's something else you probably haven't heard: Without treatment, up to 20% of people with serious eating disorders die. With treatment, that number is still 2% - 3%. Eating disorders are deadly.
Eating disorders are a real problem in our community, and we're dismissing it as a joke.
As I've mentioned, I was anorexic in middle school. Growing up overweight, I tried to take control of my situation by starving myself. It was easy to outsmart the doctors when they asked about my weight loss, and even easier to deceive my own family. In fact, to this day, my mother refuses to acknowledge my eating disorder.
The reality is, it's not easy to talk about eating disorders. And that's especially true for men. In a world that sees eating disorders as a problem for teenage girls trying to fit into prom dresses, it's all of our jobs to decrease the stigma and be constructive with our words and actions.
When someone is referred to as straight skinny but gay fat, I'm not laughing. Because what I really hear in that statement is the struggle that all gay men have of looking in the mirror and seeing someone they love. And to me, that's not a joke. And if it is, it's a punchline that some of us are paying for with our lives.